For people who struggle with fitting exercise into a busy schedule, doing at home exercise like interval training means you can get a great workout in even while watching your favorite TV show.
What? For real?!
Yes!  And you should be doing interval workouts because they really do deliver efficient, effective exercise. (This is especially true for women in perimenopause!) A good interval training timer is all you need to get a great workout during your next Netflix binge.
First Published: June 28, 2019… Last Updated: October 31, 2022
This post contains affiliate links. As an Amazon Associate I earn from qualifying purchases. Purchasing via these links gives me a small commission at no cost to you. Please see my privacy policy for more information.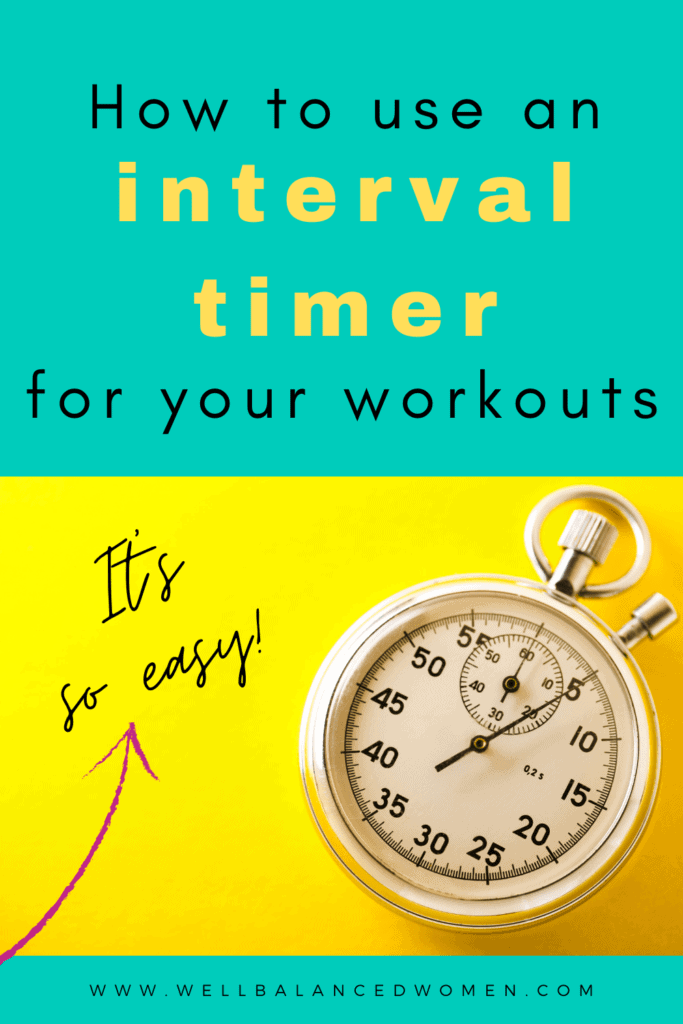 How to use an interval timer
Are you ready to give interval workouts a try but are unsure of how to keep track of your intervals without interfering with your workout? I'm happy to tell you that using an interval training timer is easier than you think.
An interval timer allows you to set two (or more) periods of time of different lengths.  One period is for work (high intensity) and one period is for rest or active recovery (low intensity).  By alternating these two time periods, you've set up the intervals of your workout.
One of the reasons so many people enjoy using a workout timer is because it simplifies the entire exercise routine. An interval timer takes much of the thinking out of the structure of timekeeping high/low intervals. It's as simple as waiting for the timer to beep (or whistle or chime) and then moving on to the next exercise.
Yes, it's really that simple! Well, with one exception…
Don't forget transition time between intervals!
Remember that you may want to have some transition time in between your intervals.  If you're moving through various pieces of equipment or changing body positions (standing, prone, sitting), including an interval of transition time will make your workout run more smoothly.
These transition times can be as short at 10-15 seconds if you're just changing equipment or body positions. Try to keep them as short as possible– you have a low interval that's the recovery time meant to help you catch your breath.
What interval training timer is right for you?
Your two basic choices for a workout timer is an interval timer watch or a smartphone interval timer app. Neither one is better than the other at being a workout timer — it's simply a matter of personal preference.
Interval Timer Watch Options
If you have a smartwatch like an Apple Watch, you have loads of options for interval training timers. Depending on the model of your watch, you likely have built-in interval timer capability as well as the option to add a more sophisticated app.
If your budget doesn't support an Apple Watch, never fear! My inexpensive yet trusty Timex Ironman watch has an interval training timer built in! This has been my go-to interval timer watch for more than two decades. It's not flashy, but it gets the job done.

Want something with REALLY BIG NUMBERS so you can see it easily during your workout? Gymboss is for you! It's interval training timer function and stopwatch function mean you'll see all of the pertinent information clearly, even when you're working up a hazy sweat.
Interval Timer App Options
Don't like to wear a workout watch? Then grab an app for your smartphone! All of the interval timer apps are more or less the same, and many of them are free.  They allow you to set a high intensity period and a low intensity period, repeated for as many times as your workout requires.
Interval timer apps differ in how complex they get. Some allow you to set as many different intervals as you want. Other versions add in warm up and cool down intervals, and still others offer only the basic work/rest structure.
Some apps allow you to program what exercises you want into each interval. This is useful if you have basic workouts you like to do regularly. A text to speech function in the app alerts you as to what exercise to switch to at the next interval.  This means you don't have to look at your app or your workout log to keep up with the exercise routine. Set it up once, and then you're ready to go every time.
Other apps allow synching of music to each interval. If you like to workout to music, make sure your interval timer app includes this feature!
Dig around in the app store and see what features align with your needs.
Ready to put your interval timer watch to use in an interval workout?
Here are a few of my favorites! These are workouts I've used as the basis of custom training workouts for more than a decade. They are efficient, effective exercise!
Bodyweight Workouts You Can Do at Home
An Awesome Small Space Workout
Exercise Ideas for the Super Busy
The Well Balanced Women blog is for educational purposes only and is not medical advice. Please discuss your health issues with a licensed medical practitioner.